Recognizing Canada's top talent creates community of support for current and future generations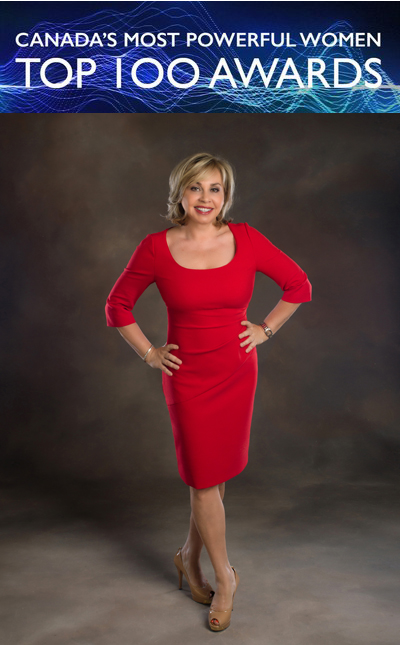 TORONTO – (November 23rd, 2016) –
Newswire
The Women's Executive Network (WXN) unveiled the list of Canada's Most Powerful Women: Top 100 Award Winners, who will be recognized during a gala at the Metro Toronto Convention Centre on November 24.
Launched in 2003, the Top 100 Awards celebrate the incredible accomplishments of Canada's leading female executives who have raised their voices, overturned obstacles, empowered the voiceless and paved a path for the next generation. The Awards also applaud the organizations and networks that support them.
"Women are not just leading companies, headlines and new deals, we're doing so in record numbers. In addition to closing the gender gap for participation in post-secondary education and the workforce, we're excelling at the top levels of every sector," says WXN Owner & CEO, Sherri Stevens. "The purpose of the Canada's Most Powerful Women: Top 100 Awards is about celebration and inspiration. By recognizing a community of now 939 remarkable women, we get the opportunity to look back, appreciate the hard work it took to get here and show the next generation of leaders what's possible."
Co-Presented by Scotiabank and KPMG, the Top 100 Awards span the private, public and not-for-profit sectors and are given to remarkable women in nine different categories: BMO Arts & Communications, RBC Champions, Accenture Corporate Directors, Scotiabank Corporate Executives, CIBC Entrepreneurs, TELUS Future Leaders, KPMG Professionals, PwC Public Sector Leaders, Sun Life Financial Trailblazers & Trendsetters, plus the inaugural Inclusion Vanguard Award, presented by Deloitte.
Among the incredible women receiving Top 100 Awards this year are Wendy Freeman, President, CTV News; Jennifer Tory, Group Head, Personal and Commercial Banking, RBC; and Julie Delahanty, Executive Director, Oxfam Canada. This year, 11 women will also be inducted into the WXN Top 100 Hall of Fame, including Karen Flavelle, CEO, Purdys Chocolatier; and Roberta Jamieson, President & CEO, Indspire.
Past Award Winners include some of Canada's most iconic women trailblazers: Margaret Atwood, Best-Selling Author; Dr. Roberta Bondar, astronaut; Arlene Dickinson,  CEO, Venture Communications; Christine Magee, President, Sleep Country Canada; Michaëlle Jean, former Governor General of Canada; and Heather Reisman, Founder and CEO, Indigo Books & Music.
In addition to honouring the 2016 Award Winners, the Gala features a keynote presentation by Stacey Allaster, Top 100 Hall of Fame Inductee, USTA Chief Executive for Professional Tennis and Former WTA Chairman & CEO. WXN is also proud to welcome back Anne-Marie Mediwake, Co-Host of Your Morning, as emcee for the evening.
Earlier in the day, guests can attend the Leadership Summit, which delivers networking and inspiration on how, when and why to "Raise Your Voice." Keynote speakers include Lt.-Gen. Christine Whitecross, 2011 & 2016 Award Winner; Lieutenant-General, Canadian Forces; Natasha Walji, 2016 Award Winner, Head of Industry, Branded Apparel, Google; and Cathy Sobocan, Voice & Presentation Skills Coach, Raise Your Voice Coaching.
WXN's 2016 Canada's Most Powerful Women: Top 100 Award Winners by category:
BMO ARTS & COMMUNICATIONS
Wendy Freeman, President, CTV News, Bell Media – ON
Tasha Kheiriddin, Host, Host, AM640, Corus Entertainment – ON
Lainey Lui, Co-host, The Social; Reporter, Etalk, Bell Media – ON
Natalie Osborne, Chief Strategy Officer, 9 Story Media Group – ON
Shahrzad Rafati, Founder & CEO, BroadbandTV – BC
RBC CHAMPIONS
Ulrike Bahr-Gedalia, President & CEO, Digital Nova Scotia – NS
Karina Briño, President & CEO, Mining Association of British Columbia – BC
Dr. Beatrix Dart, Professor of Strategic Management & Executive Director, Initiative for Women in Business, University of Toronto, Rotman School of Management – ON
Julie Delahanty, Executive Director, Oxfam Canada – ON
Patricia Karen Gagic, Artist, Author & CFO, Hamilton Vein Clinic– ON
Anne Giardini, Chancellor, Simon Fraser University – BC
Shannon MacDonald, Vice Chair & Chief Inclusion Officer, Deloitte LLP – ON
Kerri-Ann Santaguida, VP & General Manager of Merchant Services, American Express Canada – ON
ACCENTURE CORPORATE DIRECTORS
Judith Athaide, President & CEO, The Cogent Group Inc. – AB
Penny Lipsett, Vice-Chair, Liquor Control Board of Ontario – ON
Isabelle Marcoux, Chair of the Board, Transcontinental Inc. – QC
Sian Matthews, Chair, Canada Post; Corporate Director, Tricon Capital Group; Cidel Bank Canada; The Calgary Foundation – AB
Kathleen O'Neill, Corporate Director, ARC Resources Ltd.; Cadillac Fairview Ltd.; Finning International Inc.; Invesco Canada Funds; Ontario Teachers' Pension Plan – ON
Sherry Peister, Board Chair, Green Shield Canada – ON
Kathleen Taylor, Chair of the Board, RBC – ON
SCOTIABANK CORPORATE EXECUTIVES
Desiree Bombenon, President & CEO, SureCall Contact Centers Ltd. – AB
Manon Brouillette, President & CEO, Vidéotron – QC
Susan Brown, SVP, Alberta/NWT Division and Women's Market, BMO Bank of Montreal – AB
Gail Edwards, CFO, The Minto Group – ON
Andrea Fiederer, EVP & CMO, goeasy Ltd. – AB
Laura Gainey, SVP, Service & Operations, Insurance, RBC – ON
Joy Grahek, General Counsel, GFL Environmental Inc. – ON
Lori Grant, President, Klick Inc. – ON
Cynthia Hansen, President, Gas Distribution & Power, Enbridge – ON
Karen Hardie, VP, Global Sales, Rocky Mountaineer – BC
Marian Lawson, EVP, Global Financial Institutions & Transaction Banking, Scotiabank – ON
Viki Lazaris, COO, Canadian Personal & Commercial Banking, BMO Financial Group – ON
Shelley Martin, President & CEO, Nestlé Canada – ON
Kathy McGarrigle, COO, Coast Capital Savings Credit Union – BC
Sandy McIntosh, EVP, People & Culture and Chief Human Resources Officer, TELUS Communications Inc. – ON
Cathy McLay, CFO and EVP, Finance and Corporate Services, TransLink – BC
Ellen Moore, President & CEO, Chubb Insurance Company of Canada – ON
Gillian Riley, EVP, Canadian Commercial Banking, Scotiabank – ON
Charlene Ripley, EVP, General Counsel, Goldcorp Inc. – BC
Laurie Schultz, President & CEO, ACL – BC
Sandy Sharman, EVP & Chief Human Resources Officer, CIBC – ON
Louise St-Pierre, President & CEO, Cogeco Connexion – QC
Evelyn Sutherland, CFO, Enercare Inc. – ON
Jennifer Tory, Group Head, Personal and Commercial Banking, RBC – ON
Leagh Turner, Global COO, Strategic Customer Program, SAP AG – ON
Catherine Wood, SVP, Head of Online Brokerage, Insurance Products & Marketing,Qtrade Financial Group – BC
CIBC ENTREPRENEURS
Christiane Germain, Co-Founder & Co-President, Group Germain Hotels – QC
Mandy Rennehan, Founder & CEO, Freshco – ON
Shannon Rogers, President & General Counsel, Global Relay Communications – BC
Geeta Sankappanavar, Co-Founder, President & COO, Grafton Asset Management – AB
Elen Steinberg, President & CEO, SPP Marketing Services Inc. & Real Style Network Inc. – ON
Joyce Usher-Mesiano, President & Partner, National Brokers Insurance Services Inc. – ON
Anne Whelan, President & CEO, Seafair Capital Inc. – NL
TELUS FUTURE LEADERS
Shereen Anis, CEO, Kid Koder'z City Inc. – ON
Amélie T. Gouin, Associate, Borden Ladner Gervais LLP – QC
Sarah Jacobs Barrs, Director, Events, Klick Inc. – ON
Véronique Jacques, Combat Engineer Officer, Canadian Armed Forces – QC
Amanda Khan, Medical Student, The University of Toronto, MD/PhD Program – ON
Bailey Parnell, Founder & CEO, SkillsCamp – ON
KPMG PROFESSIONALS
Sara L. Austin, Founder & President/CEO, Children First Canada – AB
Georgina Black, Partner & National Industry Leader, Health & Life Sciences, KPMG LLP – ON
Samantha Horn, Partner, Stikeman Elliott LLP – ON
Melissa Kennedy, EVP & Chief Legal Officer and Public Affairs, Sun Life Financial – ON
Petra Kuret, Office Managing Director, Accenture – BC
Valerie Mann, Partner, Lawson Lundell LLP – BC
Carol Pennycook, Partner, Davies Ward Phillips & Vineberg LLP, – ON
Sarah Qadeer, General Counsel, Home Depot of Canada Inc. – ON
Cheryl Reicin, Partner, Torys LLP – ON
Tracey Riley, Managing Partner, Assurance, Canada, Asia-Pacific & Americas, PwC Canada – ON
Sylvie Rodrigue, Partner & Head of Torys' Montreal Office, Torys LLP – ON
Claudia Thompson, Managing Director, Accenture – ON
Karen Werger, Partner, Toronto Marketplace Leader, Financial Advisory & National Leader, Professional & Business Services Sector, Deloitte LLP – ON
PWC PUBLIC SECTOR LEADERS
Yaprak Baltacioğlu, Secretary of the Treasury Board, Treasury Board of Canada Secretariat – ON
Marilynn Booth, Dean, University of Toronto, School of Continuing Studies – ON
Ann Buller, President & CEO, Centennial College – ON
Lise Croteau, EVP & CFO, Hydro-Québec – QC
Barbara Grantham, President & CEO, VGH & UBC Hospital Foundation – BC
Dr. Erin Kelly, Assistant Deputy Minister, Corporate & Strategic Planning, Department of Environment and Natural Resources, Government of the Northwest Territories – NT
Kathy Kinloch, President, British Columbia Institute of Technology – BC
Tracy Kitch, President & CEO, IWK Health Centre – NS
Dr. Dru Marshall, Provost and VP (Academic), University of Calgary – AB
Wendy Montgomery, VP, Lottery Marketing & Sales, OLG – ON
Mary Traversy, COO, Canada Post Corporation – ON
Carolyn Wilkins, Senior Deputy Governor, Bank of Canada – ON
Penny Wyger, SVP, General Counsel & Corporate Secretary, Liquor Control Board of Ontario – ON
SUN LIFE FINANCIAL TRAILBLAZERS & TRENDSETTERS
Dr. Sue Abu-Hakima, Co-Founder & CEO, Amika Mobile Corporation – ON
Dianne Carmichael, Managing Director, Health Innovation & Ventures, MaRS Discovery District; CEO, Carmichael Worldwide Inc. – ON
Dr. Imogen Coe, Dean, Faculty of Science, Ryerson University – ON
Andrea Cohen Barrack, CEO, Ontario Trillium Foundation – ON
Natalie Dakers, President & CEO, Accel-Rx Health Sciences Accelerator – BC
Dr. Ann Dale, Professor, Trudeau Fellow Alumna, Canada Research Chair (2004-2014), Royal Roads University – BC
Mary Deacon, Chair, Bell Mental Health Initiative, Bell – ON
Dr. Annemieke Farenhorst, Professor, Department of Soil Science, Faculty of Agricultural and Food Sciences; Prairie NSERC Chair, Women in Science and Engineering, The University of Manitoba – MB
Inez Jabalpurwala, President & CEO, Brain Canada Foundation – QC
Dr. Ruth Ann Marrie, Professor, Medicine & Community Health Sciences; Director Multiple Sclerosis Clinic, The University of Manitoba – MB
Dr. Linda Maxwell, Founder and Managing Director, Biomedical Zone, Ryerson University – ON
Sandra Oldfield, President & CEO, Tinhorn Creek Vineyards – BC
Nathalie Tessier, Canadian Managing Partner, Audit, Deloitte LLP – QC
Natasha Walji, Head of Industry, Branded Apparel, Google – ON
Lt.-Gen. Christine Whitecross, Lieutenant-General, Canadian Forces – ON
WXN HALL OF FAME
Lisa Borsook, Executive Partner, WeirFoulds LLP – ON
Shauneen Bruder, EVP, Operations, Personal and Commercial Banking, RBC – ON
Debby Carreau, CEO & Founder, Inspired HR Ltd. – AB
Karen Flavelle, CEO, Purdys Chocolatier – BC
Allison Grafton, President & Partner, Rockwood Custom Homes – AB
Dana Hayden, President, Hayden Consulting Services – BC
Roberta Jamieson, President & CEO, Indspire – ON
Catherine Karakatsanis, COO, Morrison Hershfield Group Inc. – ON
Wendy Lisogar-Cocchia, CEO, Absolute Spa Group / Crew Management Ltd. – BC
Janice McDonald, President, The Beacon Agency – ON
Benita Warmbold, Senior Managing Director & CFO, Canada Pension Plan Investment Board – ON