http://www.marketwatch.com/story/womens-executive-network-reveals-2014-canadas-most-powerful-women-top-100-award-winners-2014-11-26
http://www.financialpost.com/m/wp/blog.html?b=business.financialpost.com/executive/executive-women/canadas-100-most-powerful-women
Elen Steinberg of SPP Marketing Services and Real Style Magazine named WXN Top 100 Award Winner. Awards recognize female leaders in the private, public and not-for-profit sectors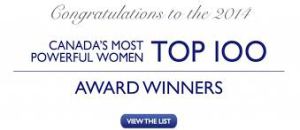 TORONTO – (December 4th, 2014) – SPP Marketing Services and Real Style is pleased to announce that, Elen Steinberg, President and Publisher has been named a Women's Executive Network's (WXN) 2014 Canada's Most Powerful Women: Top 100 Award Winner.
The Top 100 Awards recognize Canada's strong, fearless female leaders who have become agents of change in reshaping Canadian organizations at the highest levels.
Elen Steinberg joins an elite group of Top 100 Award Winners that includes some of Canada's most iconic women trailblazers, such as Dr. Roberta Bondar, astronaut, Heather Reisman ,CEO of Chapters/Indigo, Kathleen Taylor, chair of the board, Royal Bank of Canada and Michaëlle Jean, former governor general of Canada.
'I'm very honored to be recognized by WXN Top 100' says Steinberg" " WXN is a leading organization dedicated to recognizing female achievement and promoting women's advancement in this country. The awards event was also a great sucess. Not only extremely well organized, the evening was very motivational and inspiring."
Co-Presented by Scotiabank and KPMG, the Top 100 Awards celebrate and highlight professional achievements of women across the country in the private, public and not-for-profit sectors at a time when corporate Canada is undergoing pressure to promote more female leaders into board and executive office positions.
"Despite ever-changing styles and tastes, great leadership is timeless," says WXN founder, Pamela Jeffery. "Top 100 Award Winners are a testament to the incredible range of female talent and leadership in Canada and proof that change is happening, with more women earning a place at the highest levels of Canadian organizations."
Elen Steinberg is recognized for her achievement in developing new and very successful customer acquisition programs in the Canadian credit card industry and for publishing an award winning magazine – Real Style- which was the first to offer 'shoppable content' right off the page.
The full list of WXN's 2014 Canada's Most Powerful Women: Top 100 Award Winners can be found at http://www.marketwatch.com/story/womens-executive-network-reveals-2014-canadas-most-powerful-women-top-100-award-winners-2014-11-26 and http://www.financialpost.com/m/wp/blog.html?b=business.financialpost.com/executive/executive-women/canadas-100-most-powerful-women.
About the Women's Executive Network (WXN):
Founded in 1997, WXN is Canada's leading organization dedicated to the advancement and recognition of women in management, executive, professional and board roles. WXN is a founding member of the Canadian Board Diversity Council, dedicated to increasing the diversity of Canada's corporate boards. In the fall of 2008, WXN launched in Ireland, a first step in creating an international community of female leaders.
As individuals, we can inspire and be inspired. To our community of members and partners, we thank you for inspiring WXN to lead.
More information and details are available at wxnetwork.com or top100women.ca.
About SPP Marketing Services:
Established in 1987, SPP Marketing Services is an integrated agency providing experiential marketing, intercept sales, airport marketing in the credit card and consumer packaged goods industries. Our programs bring exceptional proven track record in delivering measurable results. Partnering with Canada's major banks and retailers we have launched the majority of travel co-branded cards in Canada and continue to lead the industry with premium card acquisitions.
About Real Style:
Multi platform media offering Award Winning digital and print luxury magazine, online website and social media integration. Winner of Canadian Online Publishing Award in 2013- the magazine was the first in Canada to offer 'shoppable content' off its digital pages.
For additional information please contact: Editorial@realstylenetwork.com