Representing diverse industries and business sizes, and hailing from across the country — from the Yukon to Newfoundland — here are the 2018 RBC Canadian Women Entrepreneur Award Finalists.
TORONTO – (September 19th, 2018) –
Women Of Influence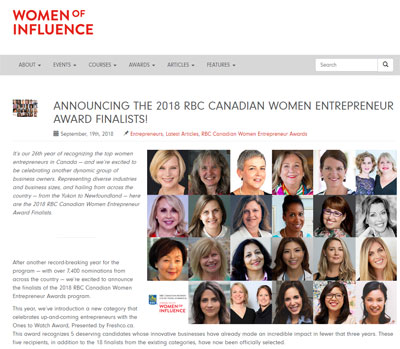 After another record-breaking year for the program — with over 7,400 nominations from across the country — we're excited to announce the finalists of the 2018 RBC Canadian Women Entrepreneur Awards program.
This year, we've introduction a new category that celebrates up-and-coming entrepreneurs with the Ones to Watch Award, Presented by Freshco.ca. This award recognizes 5 deserving candidates whose innovative businesses have already made an incredible impact in fewer that three years. These five recipients, in addition to the 18 finalists from the existing categories, have now been officially selected.
From across the country, from diverse backgrounds, spanning industries and business stages and sizes – our finalists truly represent what it means to go after your dreams.
The winners will be announced and celebrated at the 26th Annual Awards Gala  on Wednesday, November 21, 2018 at the Fairmont Royal York in Toronto. We'll be recognizing female business owners from across Canada, who are making impressive and substantial contributions to the local, national, and global economy. Candidates share a strong entrepreneurial vision and a relentless passion in pursuing their dreams.
"The passion, dedication and enthusiasm of these entrepreneurs is inspiring and the success they achieved is a testament to their hard work and sacrifice" says Greg Grice, Executive Vice President, Business Financial Services, RBC. "RBC is proud to support entrepreneurs across Canada as they start, grow and scale their businesses.  The role they play in inspiring future entrepreneurs and business leaders, and the significant impact they make on their communities, is something we should all celebrate not just today, but every day."
Without further ado, here are our 2018 RBC Canadian Women Entrepreneur Awards program finalists and recipients:
The 2018 Recipients of the Ones to Watch Award, Presented by Freshco.ca are:
Kate Latos, Ecofence and Decking Ltd.
Jessica Ching, Eve Medical
Humera Malik, Canvass Analytics
Thao Nguyen, Bonbon Collections Ltd.
Sonja Mills & Alicia MacDonald, Port Rexton Brewing Company Ltd.
The 2018 RBC Canadian Women Entrepreneur Award Finalists are:
Micro Business Award
West:  Luann Baker-Johnson, Lumel Studios
Central: Glain Roberts-McCabe, The Roundtable
East: Kathleen Quinlan, Fiore Botanica Natural Skin Care
Staples Start-Up Award
West: Jennifer Denouden, Avana Homes
West: Ella Choi, Playtime Pediatric Dentistry
Central: Joanna Griffiths, Knix Wear Inc.
RBC Momentum Award
West: Jennifer Hamilton, Oxygen Yoga and Fitness
Central: Marjorie Dixon, Anova Fertility and Reproductive Health
East: Francine Brûlé, Les Enfants Terribles Brasserie
Social Change Award
West: Ching Tien, EGRC (Educating Girls in Rural China)
Central: Latha Sukumar, MCIS Language Solutions
East: Heather Modlin, Key Assets Newfoundland and Labrador
TELUS Trailblazer Award
West: Toni Desrosiers, Abeego
Central: Caroline Roberts, Thoth Technology Inc.
Central: Elen Steinberg, SPP Marketing Services Inc.
Excellence in Entrepreneurship Award
West: Mandy Farmer, Accent Inns Inc.
Central: Victoria Sopik & Jennifer Nashmi, Kids & Company
East: Mélanie Normandin, Les Consultants de l'Arctique Inc.